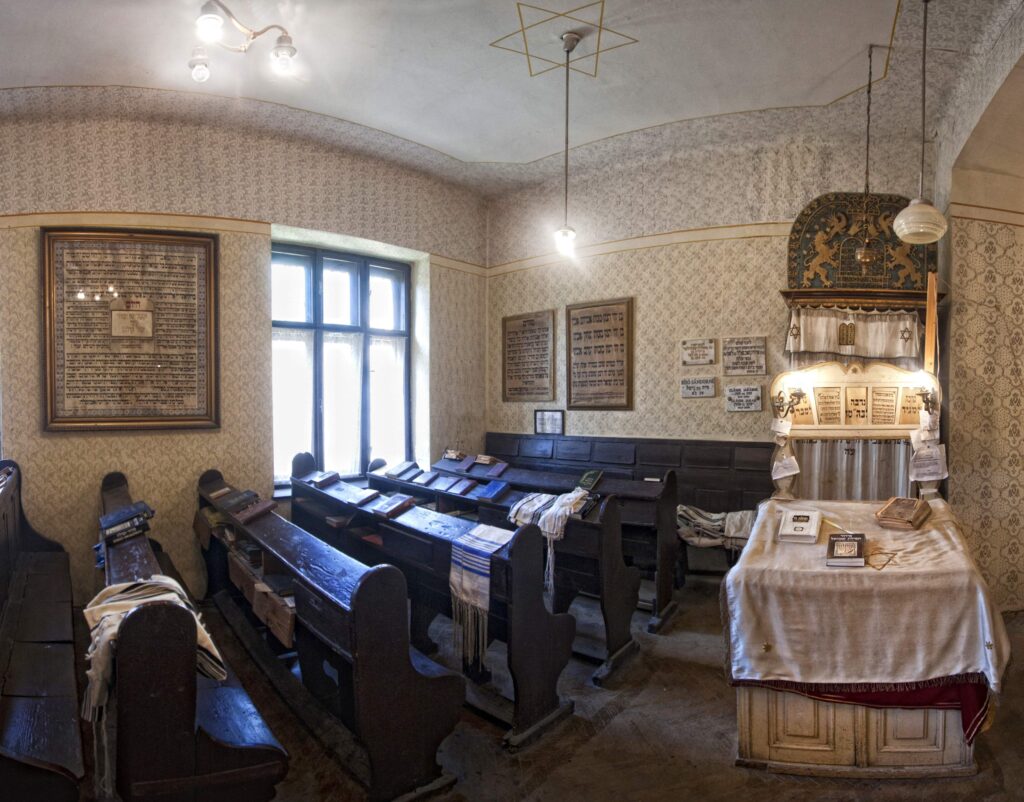 Address: H-1086 Budapest, Teleki Square 22
e-mail: info@telekiter.com
Telephone: +36 (20) 351-5893
President: Gábor Mayer
Rabbi: Shalom Hurwitz
Sachrit: every Saturday, 9 am.
More information:
http://telekiter.hu
http://gjea.eu
https://www.facebook.com/glaserjakabemlekalapitvany
Stiebel, which opens from the courtyard of the tenement house at 22 Teleki Square, is currently the only Orthodox house of worship in the country with a Sephardic rite (Nuszách sparade), the so-called "Csortkovi" synagogue. The house of prayer is named after the town of Czertków (Chortkov) in present-day Ukraine, from which the Hasidic founders of the house of prayer may have originated.
The  house of prayer, on the ground floor of a house built more than 100 years ago, can accommodate about 50 men and 30 women, separated from each other by a curtain, of course. At first the market vendors visited the house of prayer, then after the war, when the church of the merchants and the synagogue in the Zsibárus house (Magdolna u. 44.) ceased to exist, the rest of their community also started to come here. At first, the scholar Lichtmann Navhman and then his son-in-law, József Lebovics, took care of the rabbi's duties, and the cantor was the well-voiced, educated and religious members of the synagogue (Nándor Zenner, Vilmos Gold and others). The leader of the congregation was József Koltai, a retired religious teacher, and then the Glaser brothers took over. In addition to daily prayer, a Saturday Farewell Fish Dinner  was held at the end of each month.
Its furnishings are the same from the rows of benches to the Torah cabinet, from its foundation to the present day. The Torah reading table, where they pray today (Torah reading), was brought from the church on Dobozi Street after it was closed. The wall originally had a prayer beginning with Somer Yisrael…, but it was painted during the interior painting of the synagogue, and once the template was missing, it could no longer be put back there.