Miről is tesz tanúbizonyságot a sábesz? – Vájákhél
Hetiszakaszunk az aranyborjú szörnyű bűnének jóvátételét mutatja be. A Vájákhél úgy kezdődik: "Mózes egybegyűjtötte Izrael fiainak egész községét…", akiket ekkor egybegyűjtött Mózes, ők tették jóvá az aranyborjú készítésében résztvevők bűnét. Mózes gyülekezete az emberek közötti egység csoportja volt, akiknek elmondta a Miskánnak kapcsolatos utasításokat és megismételte a szombat szentségének fontosságát.
A sábesz leckét ad nekünk HáSém egyedülálló voltáról. Arról tanúskodik, hogy az Örökkévaló egyedül teremtette az egész univerzumot, és mindent ami abban található. A sábesz annak a szimbóluma, hogy a világot egy végső spirituális célból hozta létre az Örökkévaló. Ez az a nap, amikor az Örökkévaló befejezte a világ teremtését, és a világ végre készen állt arra, hogy beteljesítse célját.
A sábeszkor tiltott harminckilenc meláchot nem egyszerű munkák, hanem inkább kreatív cselekvések, olyan cselekedetek, melyeket a Miskán és az univerzum létrehozásakor használtak. Azzal, hogy tartózkodunk ezektől a kreatív cselekvésektől és elmélyedünk a szombat szépségében, a teremtés végső, spirituális céljáról teszünk tanúbizonyságot.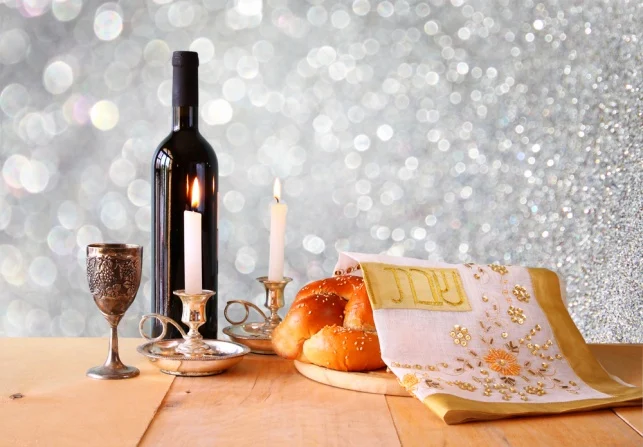 Sábát sálom,
Paskesz Sharon
Parashat Vayakhel presents a rectification for the grave sin with Golden Calf. Vayakhel begins with the verse, "Moshe assembled the Bnei Yisrael", and it's explained that Moshe's assembly of the people for the construction of the Mishkan atoned for their assembly to create the Golden Calf. It was an assembly of unity amongst the people, Moshe prefaced his instructions concerning the Mishkan with the laws of Shabbat.
Shabbat provides a lesson of HaShem's singularity. It testifies to the fact that HaShem created the universe and all it contains. Shabbat testifies that the world was created for an ultimate spiritual purpose. Its instituted on the day that HaShem completed the creation, and the world was ready to fulfil its purpose. The thirty nine melachos that are prohibited on Shabbos aren't work, but rather, they are creative acts which were used in the construction of the Mishkan and the universe. By refraining from these creative acts, and engaging in spiritual pursuits, we are testifying to an ultimate spiritual goal of creation.
(Slifkin, Brea)
Shabbat Shalom,
Sharon Paskesz
Kép forrása.