Párását Slách – Parashat Shelach
"És szólt az Örökkévaló Mózeshez mondván: Küldj el magadnak férfiakat, hogy kikémleljék Kánaán országát[…]" (4Mózes 13:1.) – Az első könyvben úgy magyarázzák Bölcseink, mikor a Teremtő szól Ábrámnak: "Menj el magadnak országodból […]" (1Mózes 12:1.) – vagyis "magadnak": "a te javadra, a te érdekedben". Magyarázhatjuk itt ugyanúgy: "küldj el magadnak" – Mózes nem mehetett be Erec Jiszroélbe. A kémeknek "hála" plusz negyven évet kellett vándorolniuk a pusztában, így Majse Rábénu kapott még negyven évet élni ezen a földön, tehát a kémek küldése "magadnak" – a te javadra, a te érdekedben (Tiferesz Jajneszn).
"És szólt az Örökkévaló: Megbocsátok szavad szerint." (4Mózes 14:20.) – RáSI a következőkeppen magyarázza: "Úgy, ahogy mondtad, nehogy azt mondják a nemzetek: mivel nem bírta az Örökkévaló elvinni ezt a népet az országba […]" 
A dolog érthető, miért kell ezt RáSInak magyaráznia? Íme, Mózes imádkozott az Örökkévalóhoz, hogy kegyelmezzen meg Izrael népének, és ne pusztítsa el őket, nehogy ezáltal megszentségtelenüljön a Teremtő neve. Mert azt mondanák a népek, hogy: "mivel nem bírta […]" Minden ember szíve az Örökkévaló kezében van, és ahogy Ő akarja, úgy gondolkozik, úgy dönt az ember. Ezek szerint válaszolhatta volna azt az Teremtő Mózesnek, hogy Ő majd elintézi, hogy ne ez legyen a nemzetek gondolata, így nem fog nevén csorba esni. Tudjuk azonban, hogy egy cádik szava nem vész el nyomtalanul, úgy ahogy áll Jób könyvében: "Amely szóval határozol, az beteljesül neked […]" (22:28.) 
Mivel Mózes úgy mondta az imájában, hogy azt fogják mondani az egyiptomiak: "mert nem volt képes az Örökkévaló bevinni Izrael népet a Szentföldre", ezért, ha elpusztítja népét, biztos így fogják mondani az egyiptomiak és megszentségtelenítödik neve. A cádik végzését a Teremtő megtartja, így nem változtatja meg az egyiptomi a gondolatát. Ezért mondja RáSI: "megbocsátok szavaid szerint – úgy ahogy mondtad, nehogy azt mondják, az egyiptomiak[…]" – Mivel azt mondtad, hogy ezek lesznek a szavaik, nem változtatom meg gondolatukat. Ha nem mondtad volna, akkor lehetőségem lett volna megváltoztatni és megbüntethettem volna népemet, – chász vösolajm (Ködüsesz Lévi).
Gut sábesz, Paskesz Zev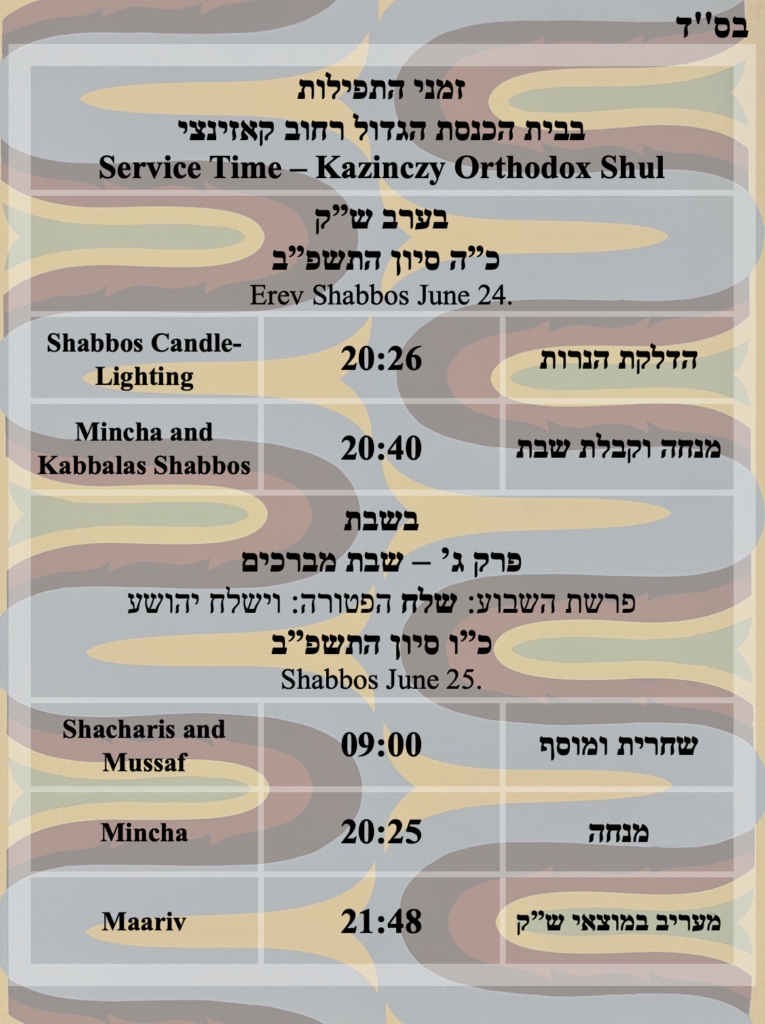 Parashat Shelach takes us through a variety of topics. Beginning with the sin of the spies, it goes on to relate the battle against Amalek, the laws of meal offerings and wine libations, the laws of separating challah, a man who gathered sticks on Shabbos, and finally the laws of tzitzis on our garment. 
It's written "velo sasuru" – "don't follow after your hearts and eyes". The root s-u-r, to follow after, has appeared several times in the episode of the spies, whose object was to tour the land. RaShI states that "the eyes and the heart are the meraglim, spies, for the body; the eye sees, the heart desires, and the body sins". Rav Shimshon Raphoel Hirsch explains that this special item of clothing is designed as a rectification for the sin of the spies. They followed after their eyes – that is to say, they relied on their minds to recall their special supernatural care. 
Tzitzis tells us not to follow our eyes, but instead to remember our higher calling in life. We aren't to be bound by the usual rules of this world, by what our eyes see and what they lead our heart to feel.We are to look at the tzizit and be conscious of our duties.
The techeles, the blue thread in the tzizit is designed to emphasise this point. It's the colour of the sea, which is the link to faraway lands. It reminds us that we are connected to a higher dimension and aren't subject to the usual rules of this world that our eyes see. (Brea, Slifkin)
Shabbat Shalom, Sharon Paskesz