Párását Softim – Parashat Shoftim
Softim (5Mózes 16:18–21:9.)
"Bírákat és tisztviselőket tégy magadnak mind a kapuidban, melyeket az Örökkévaló a te Istened ad neked, törzseid szerint, hogy ítéljék a népet igaz ítélettel." (5Mózes 16:18.)
Mit jelent az, hogy "tégy magadnak", egyes számban? A bírák, a bíróság, – bész din – kijelölése a közösség feladata, nem pedig az egyéné! 
Azt mondja erre Rabbi Chájim Vitál, hogy az embernek jónéhány "kapuja" van, melyek elé bírákat, felelősöket kell tenni. Ezek fognak vigyázni, felügyelni arra, hogy ezeken a kapukon mi mehet ki, illetve mi jöhet be. Ilyen kapuk az ember szemei, fülei, szája stb. Nem véletlen, hogy ezt a hetiszakaszt mindig ekkor, elul hónapjában olvassuk. A Tóra figyelmeztetni akar bennünket, hogy egész évben, de különösen az év utolsó hónapjában nagyon kell vigyáznunk ezekre a kapukra. Ügyelnünk kell arra,  hogy úgy használjuk őket, ahogy azt a Teremtő elvárja tőlünk. Vigyázzunk a szemünkre, hogy csak azt lássuk és azt nézzük, amit szabad nézni! Vigyázzunk a fülünkre, hogy csak azt halljuk, amit szabad hallani! És vigyázzunk a szánkra, hogy csak azt mondjuk, amit szabad mondani! (נתיבות שלום)
"Te pedig pusztítsd ki az ártatlan vért közepedből, midőn azt teszed, ami helyes az Örökkévaló szemeiben." (5Mózes 21:9.)
A RáSI azt mondja, hogy azt tanítja itt az Írás, hogyha megtalálják a gyilkost miután nyakát szegték az üszőnek, ki kell végezni és ez az, ami helyes az Örökkévaló szemében. Kérdés az, hogy miért hívja a gyilkos vérét ártatlan vérnek a poszuk, hiszen halálra köteles, mivel gyilkolt! 
Minden bűnnél, habár a Teremtő engesztelést ad a megtérőnek, mégis marad valamiféle csorba, míg ki nem javítjuk a bűnt teljesen. Így van ez itt is. Habár a város vénei hoznak egy üszőt, amelynek nyakát szegik, mégis megmarad a bűnnek a foltja. Úgy, ahogyan áll Börésisz könyvében (4:10.): "[…] testvéred elontott vére kiált hozzám a földről." A vér forr, egészen addig míg a gyilkos el nem nyeri méltó büntetését. Ezután azonban megnyugszik az elhunyt tiszta vére, és a bűn is "eltűnik". 
Ezt mondja itt az Írás: "pusztítsd ki az ártatlan vért" – az áldozat ártatlan vérét, mely "forr", és kiált hozzám. Hogyan? Úgy, hogy megbünteted a gyilkost, mert ez az "ami helyes az Örökkévaló szemeiben", és ekkor tűnik el teljesen a bűn a földről. (דברי יחזקאל)
Gut sábesz, Paskesz Zev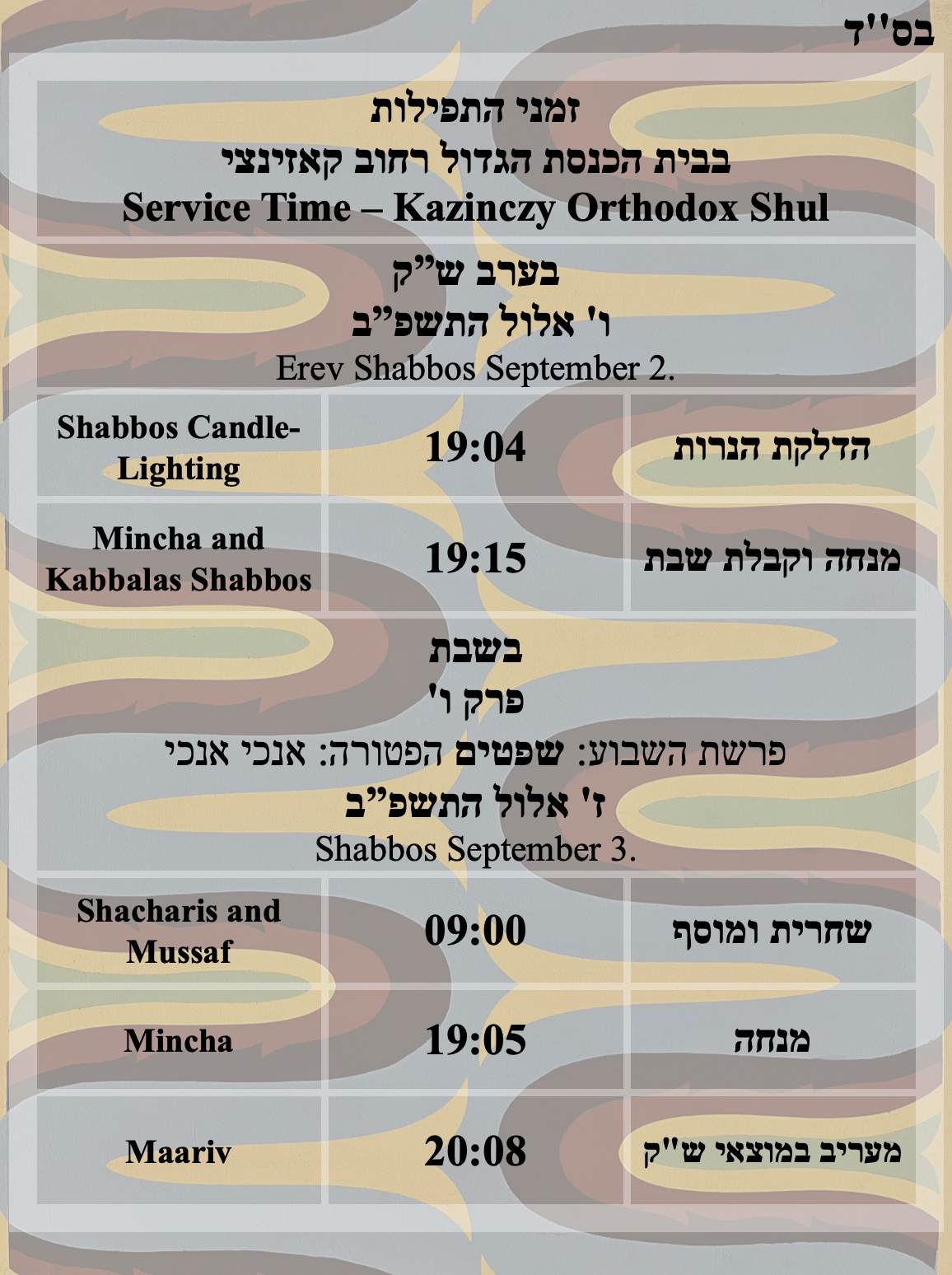 English Corner – Parashat Shoftim
In parashat Shoftim we find a mitzvah which presents us with a great difficulty: "Do not construct a matzevah, which HaShem your God hates." A matzevah is a stone which is set up for wine libations. The problem is that we have already encountered the concept of matzevah in the Torah, and it was built by none other than Yaakov Avinu. 
How can there be anything wrong with building a matzevah if Yaakov Avinu himself built one? RaShI asks this question and answers that a matzevah was indeed beloved to HaShem in the days of the forefathers. However, nowadays, when the Canaanim use it for idolatrous purposes, it has become hateful to HaShem. Rav Hirsch contrasts mizbeach, altar,  with matzevah and presents a fascinating insight into why matzevah has become unacceptable.
A matzevah is taken straight from nature. It is a single stone, the creation of which didn't involve man in any way. It represents a tribute to HaShem as the Creator of the world. A mizbeach, on the other hand, is a group of stones which is arranged by man. In religious service, it signifies not only that there is a Creator, but that He expects participation from man. HaShem is a God of mizbeach. HaShem is a God who wants to create a meaningful relationship with us, and He expects absolute dedication from us at all times. 
We are to earn this relationship by means of the free choice that He grants us, and there must therefore be possibilities for both reward and punishment. "You shall pursue perfect righteousness," reminding us that HaShem does not want tribute, but unswerving dedication to the principles of the Torah. (Slifkin, Brea)
Shabbat Shalom, Paskesz Sharon