Párását Chukát – Parashat Chukat
Chukát (4Mózes 19:1–22:1.)
"És hallgatott az Örökkévaló Izrael hangjára és kezébe adta a kánaánit; és elpusztította őket meg  városaikat; […]" (4Mózes 21:3.) – Első olvasatra a "hangjára" szó feleslegesnek tűnik, talán elég lett volna, ha a Tóra csak azt írja, hogy "hallgatott az Örökkévaló Izraelre"? 
Úgy áll, hogy Ámolék megtámadja a zsidókat Ézsau ősének "áldása" alapján, mellyel megáldotta őt Jicchok ősapánk. Így szólt az áldás: "[…] lerázod jármát nyakadról." (1Mózes 27:40.), vagyis mikor Izrael nem foglalkozik a Tórával megtámadja Ámolék. Mivel éppen most Áron főpap gyászával voltak elfoglalva – és a gyászolónak tilos a Tóra tanulás –, elődjük Ézsau parancsát követve megtámadták Izrael népét. 
Egy igaz ember után mondott gyászbeszéd – heszped –, illetve egy cádik siratása azonban Tóra tanulásnak számít. A Talmudban (Bróchajsz traktátus 6. lap) RáSI úgy magyarázza, hogy a gyászbeszéd célja, hogy a közösség felemelje sírásban hangját. Ezt mondja itt az Írás: "[…] hallgatott az Örökkévaló Izrael hangjára […]" – sírásban felemelt hangjukra Áron heszpedére, ezért kezükbe adta a kánaánit, és nem segített rajtuk Ézsau áldása (Lév Árje).
"Oly férfiú pedig aki tisztátalan lesz és nem tisztul meg – irtassék ki azon személy a gyülekezet közül […]" (4Mózes 19:20.) – Igazából nem kapja a büntetést, a kiirtást, – kóreszt – csak az, aki tisztátalanul bemegy a Szentélybe, vagy tisztátalanul eszik az áldozati állat húsából. Érdekes, hogy ezt nem említi a poszuk. 
Bölcseink szerint az első vörös tehenet niszán hónap elsején égettek el, azért, hogy megtisztuljanak, és hozhassák a peszách áldozatot idejében, tisztaságban. Aki nem akart megtisztulni nem hozhatta peszách áldozatát, és mindenképpen kiirtást – kórészt – kapott. Ha hozta a korbán peszáchot, akkor azért mert tisztátalanul lépett be a Szentélybe, ha pedig nem hozta akkor azért, mert szándékosan kihagyta az Örökkévaló parancsolatát. (A peszách áldozat egyike azon tevőleges parancsolatoknak, melyek elmulasztásáért kórész büntetés jár. ) (Molé hoAjmer)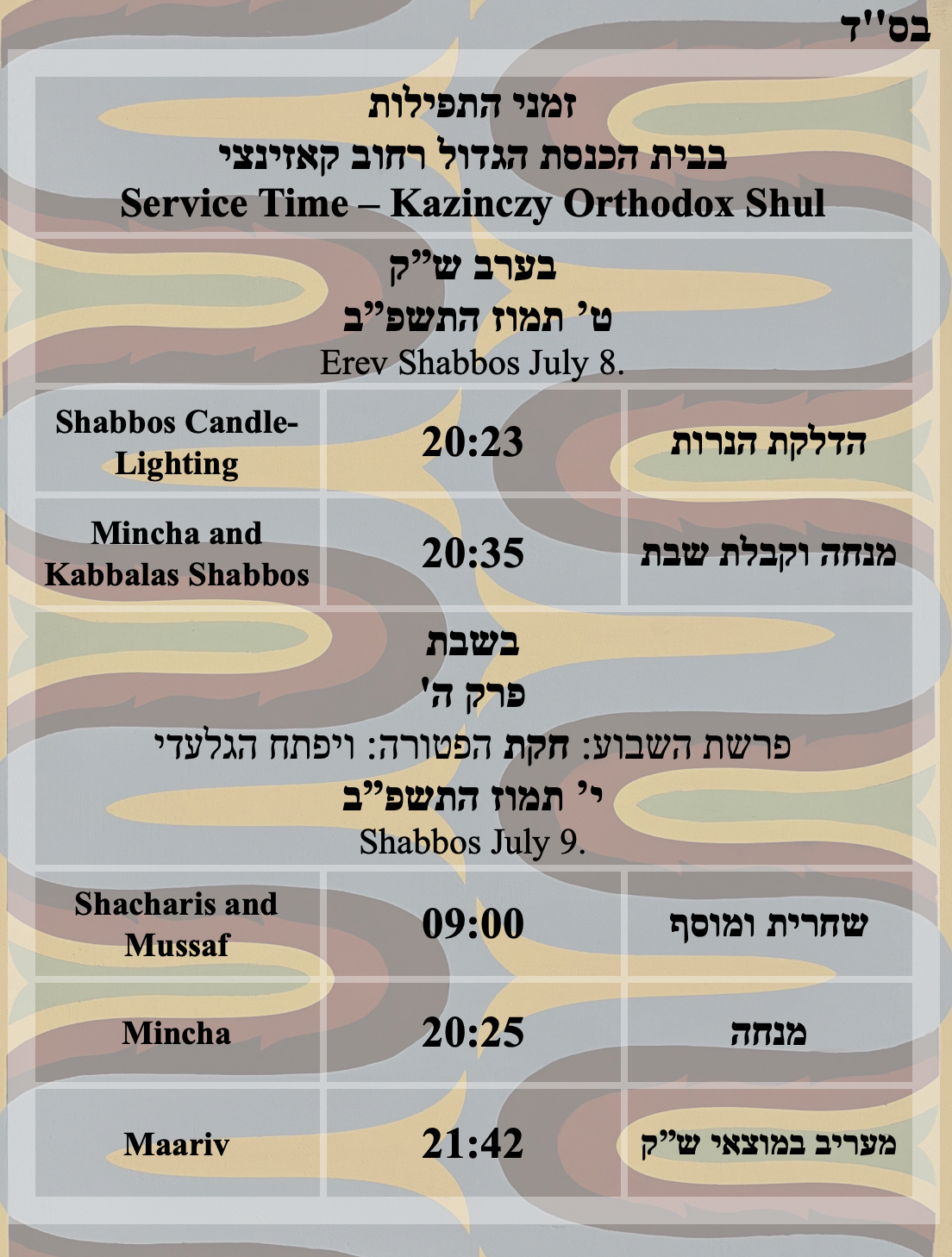 English Corner – Parashat Chukat
The law of parah adumah is a chok, something for which we know no reason. For a reason implies that the mitzvah is a response to a situation. It means that there was a certain reason for a certain mitzvah to be conceived and implemented. But we know that the Torah preceded the world, so the mitzvah that we are sometimes able to discern; for example, one purpose of the prohibition against theft is to promote a moral and stable society. 
With chukkim, we can't even discern a purpose. We observe chukkim purely and simply because the creator of the universe told us to do so.
The Sefer HaChinnuch, which sets out to give explanations for each mitzvah, nevertheless falls short by parah adumah. It quotes Shlomo HaMelech's verdict: "I said that I would understand it, but it was beyond me "Even king Shlomo, who, with his special gifts of wisdom and insight, was able to understand the mechanism behind other chukim, was not able to understand thus mitzvah. The problem isn't only that there is no obvious explanation as to how it works. The real difficulty is that there is an inherent contradiction in the laws of parah adumah-the ashes render a tamei person tahor and a tahor person tamei. It just doesn't make any sense.
The Ohr HaChaim sees tremendous benefit in this very point! We are supposed to be servants of HaShem, accepting Him as our king and master..This stems from our gratitude for his redeeming us from the Egyptians exile. Our observance of Torah is supposed to reflect this awareness. HaShem ordered us so and not just because they appeal to us. "Zos Chukkas haTorah- this is the chok of the Torah." This is the chok which reveals that we dedicate ourselves to a Torah lifestyle because it's HaShem's Torah, and not just because it seems like a nice way of life." (Slifkin, Brea)            
Shabbat Shalom, Paskesz Sharon