Mit is tanulhatunk Árontól, az első főpaptól?
E heti Tóra-szakaszunk a "Kohén Gádol", vagyis a főpap szerepét tárgyalja.
A Midrás leszögezi, hogy a "gádol", vagyis "nagy" jelző bizonyos tulajdonságokra utal, amelyekkel a Kohén Gádol mindenki másnál nagyobb méretekben rendelkezett. Ezek egyike volt az erő. A leviták felszentelése során Áron egyenként felemelte őket és testüket előre, hátra, fel s alá mozgatta. 
Amikor az ember rájön, hogy a leviták összesen 22 ezren voltak, és mindannyiukat egy nap alatt kellett felszentelni, akkor nyilvánvalóvá válik ennek a hatalmas feladatnak a nagysága is. Egyértelmű, hogy ennek a megtörténte csodás beavatkozást igényelt az Örökkévalótól. De vajon hogyan lehetett Áron erejét előmozdítani?
A RáMBáN elmagyarázza, hogy az erő előmozdítása csak egy olyan személynél lehetséges, akinek megvan a képessége, hogy legyőzze a gonosz hajlamát. Áron ereje valóban fizikai erő volt, de nem arról volt szó, hogy szokatlanul izmos lett volna. Inkább az volt az erőssége, ahogy hozzáállt a feladathoz: képes volt legyőzni az "ezt nem tudom megtenni" érzést. De feltehetjük a kérdést, hogy mégis hogyan lehetséges 22 ezer embert egy napon felszentelni? Miután Áron elhatározta magában, hogy teljesíti a feladatot, akkor lépett közbe az Örökkévaló, és akkor tett csodát, hogy valóban sikerüljön a feladat. A csodák mindig kiterjesztik a már végrehajtott emberi erőfeszítéseket. Ez volt Áron vívmánya, és ez volt leszármazottjainak az öröksége.
Reb Wassermann zc''l, gyermekkorában nem volt különösebben tehetséges, azonban, ahogy cseperedett, minden erejével azon dolgozott, hogy fejlessze magát, míg végül a generációja egyik legnagyobb bölcsévé nőtte ki magát. Az ő élete is arra tanít minket, hogy megfelelő erőfeszítésekkel a legjobb eredményekre is képesek vagyunk. Az Örökkévaló adta nekünk az erőfeszítés alapját, ne féljünk hát élni vele!
Sábát sálom,
Paskesz Sharon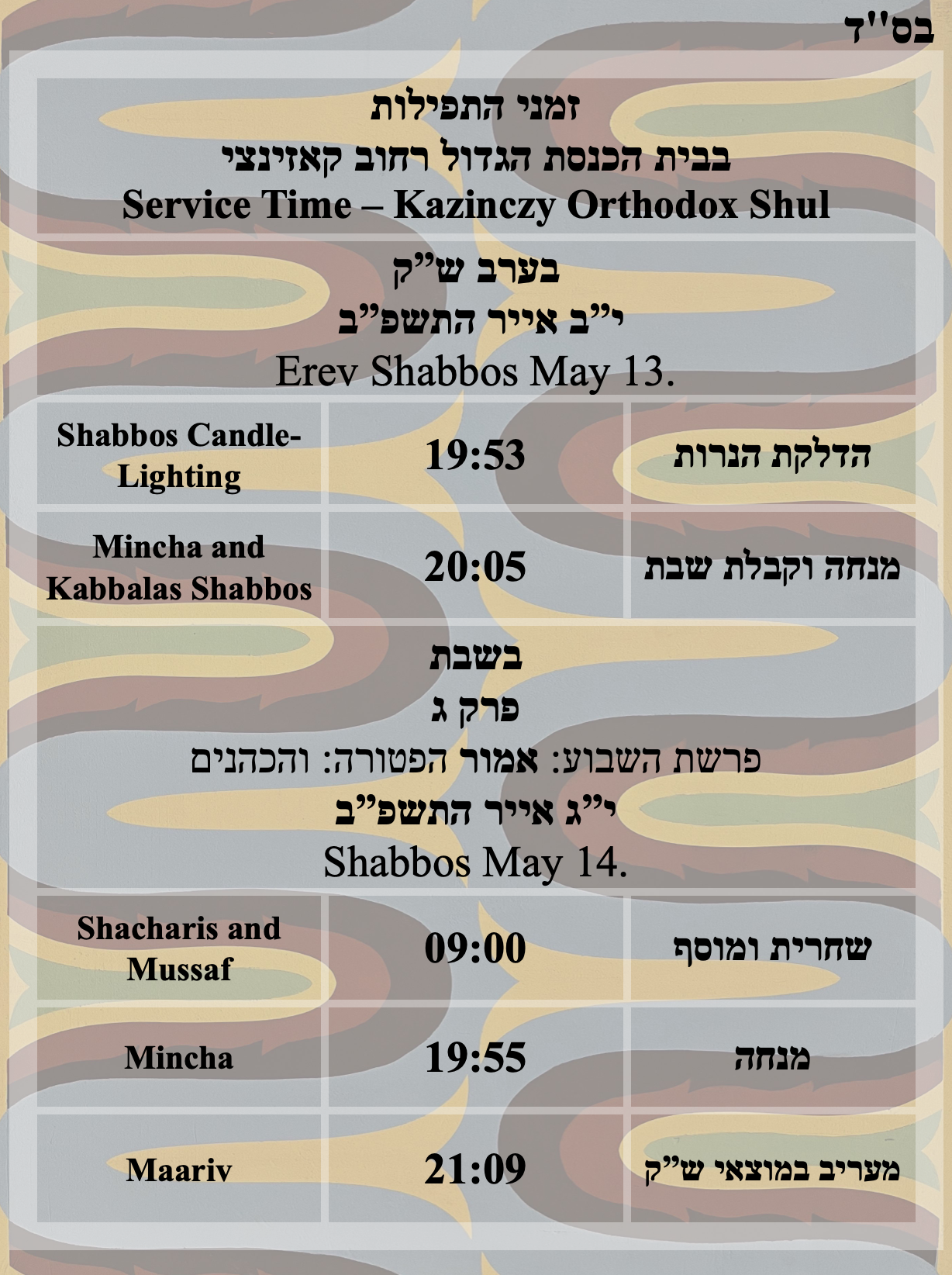 Parashat Emor
Parashat Emor discusses the role of the Kohen Gadol, the great, or high priest.
The Midrash states that his title of "great" refers specifically to certain qualities that the Kohen Gadol possessed to a greater degree than anyone else. One of these was strength. The consecration of the Levites involved Aharon picking them up bodily and moving them forward, backward, up and down. When one realises that there were 22.000 of them, and they all had to be consecrated in one day, the magnitude of this task becomes apparent. Obviously, the whole procedure required miraculous intervention from HaShem. In which case, how can this be advanced as a demonstration of Aharon's strength?
RaMBaN explains that this is referring to a person who has the strength to defeat his evil inclination. Aharon's strength was indeed a physical strength. But it wasn't that he possessed unusually powerful muscles. Rather, his strength was that what he had  used. He overcame  any feelings of "I can't be bothered" or "I can't possibly do this." But we can still ask ourselves how is it possible picking up 22.000 people? That's when HaShem stepped in, and performs a miracle. Miracles always expand upon a human effort that has already been performed.
This was Aharon's achievement, and it was the legacy for his descendants.
Reb Wasserman ztz"l, was not a particularly gifted child. He applied himself with all the efforts he could master. And he grew to become one of the greatest sages of the generation who taught us how  he tried his best, and the beautiful results were given by HaShem on the basis of Human beings efforts.
(Slifkin, Brea)
Shabbat Shalom,
Sharon Paskesz