Mit üzennek az gyermekarcú kerubok? – Keruvim, the image of children's faces
Trumá hetiszakaszunk részletezi a sivatagi sátor, a Miskán részeit, melynek impozáns falai vannak és mesés kárpitokkal van beborítva.
A frigyládában találjuk Izrael gyújtópontját, a kőtáblákat, melyeket az Örökkévaló személyesen adott át Mózesnek és így a zsidó népnek. A frigyládán pedig két aranykerubot találunk, melyeknek Rási szerint gyermekarcuk volt.
De valóban illik egy ilyen kép a Miskánhoz?
A gyermekeknek van egy tulajdonságuk, melyet a legtöbb felnőtt elveszít. Mindig izgatottak, amikor lehetőséget kapnak a "felnőtté válásra".
Amikor a felnőttek egy hálácháról vagy micváról hallanak, sokan azt válaszolják: "nem hiszem, hogy ez nekem való".
Miért nem vesszük észre, hogy a növekedésre fordított minden erőfeszítésünk kifizetődő?
A micva betartása melletti élet legalapvetőbb követelménye az, hogy hajlandók legyünk elfogadni a parancsolatot magát. Azért létezünk, hogy folyamatosan változzunk, folyamatosan tanuljunk és fejlődhessünk.
Ezért is van az, hogy a Tóra-tudós a "Talmud chóchem" címet viseli, – ő nem egy bölcs ember, hanem egy bölcs tanuló, aki mindig többet és többet akar tudni.
Ez az a fontos üzenet, melyet a gyermekarcú kerubok üzennek nekünk: sosem tudhatunk eleget, nem ismerhetjük meg Őt, hanem mindig fejlődnünk, növekednünk kell!
Sábát sálom,
Paskesz Sharon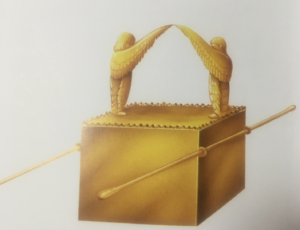 Parashat Terumah details the components of the Mishkan. There are stately walls of the Mishkan, covered with fabulous tapestries.
On the Holy Ark itself, the focal point of the Mishkan and indeed of all Yisrael, the container of the luchot, the place from which HaShem speaks to Moshe, there are sweet little cherubic children's faces: "And you shall make two golden keruvim."
Keruvim – the image of children's faces (Rashi).
Does such an image really befit the Mishkan?
Children have a quality that most adults have lost. They are always thrilled to be given the possibility of growing up.
When adults are informed of halachah or mitzvah, many respond "I don't think its for me."
Do we not realise that any effort expended in growth is rewarding?
The most fundamental requirement for a life of mitzvah observance is the willingness to accept the mitzvot upon ourselves. We are here to continually change, to constantly learn, to perpetually develop.
That is why a Torah scholar is accolated with the title of Talmud chacham, he isn't a wise man – he is a wise student, always seeking to learn more.
This is the vital message that the keruvim are imparting, we can never Know it well.
We should always be growing up.
(Zichron Meir, Slifkin, Brea)
Shabbat Shalom,
Sharon Paskesz