Párását Ékev – Parashat Ekev
Ékev (5Mózes 7:12–11:25.)
"Hanem emlékezzél meg az Örökkévalóról a te Istenedről, mert ő az ki ad neked erőt, hogy szerezz vagyont […]" (5Mózes 8:18.) – A Targum Ánkelosz úgy fordítja, hogy "Ő az aki ad neked gondolatot, ötletet vagyont szerezni".
A Báál Sém Tov magyarázata szerint óriási muszár, erkölcsi tanítás van itt elrejtve. Azt mondják Bölcseink, hogy a gonoszok tele vannak megbánással (Sevet Muszár 25. fej.). Természetesen itt nem arra gondolunk, hogy bűneik megbánásával vannak tele, hiszen akkor cádikok lennének nem pedig rösoimok, ahogy áll: "aki megbánásra gondol az cádik, nem pedig rose" (Talmud Bavli Kidusin traktátus 49. lap). 
A megbánás itt világi dolgokról beszél. Minden embernek tudnia kell és hinnie abban, hogy minden ténykedése, "biznisze" az Örökkévaló akaratával és késztetésével történik, Ő az aki adja az ötletet. Ezek szerint semmilyen megtörtént üzletet nem kell megbánni, hiszen az a Teremtő akaratával történt. Ha valaki tele van "megbánással" ezekre a dolgokra, akkor nem fogadja el, hogy minden az Örökkévaló felügyeletével történik, ezért gonosznak neveztetik.
"Ha azt mondod szívedben: számosabbak e népek nálamnál […] Ne rettegj tőlük, mert az Örökkévaló a te Istened közepetted van, nagy és félelmetes Isten." (5Mózes 7:17–21.)
A Chajvász háLvovajsz beszél egy chószedről, aki azt mondta, hogy szégyenkezik félni bárkitől a világon, a Teremtőn kívül. Ha egy ember szereti, tiszteli a barátját, hálás neki azért mert segít neki, ezzel természetesen nem ejt csorbát az Örökkévaló felé adandó szereteten illetve tiszteleten. Nem így van azonban a félelemnél. 
Ha egy ember fél egy hús-vér teremtménytől, ez a legkiválóbb példája, hogy az Örökkévaló félelme nála nem teljes, nem tökéletes. Ha tényleg félné a Teremtőt, akkor semmilyen teremtménytől nem félne. Ez áll itt nálunk a poszukban: "Ne rettegj tőlük" – a népektől, – "mert az Örökkévaló nagy és félelmetes […]", azaz csak Ő a félelmetes. Ha félni, rettegni fogsz a népektől, akkor ez azt mutatja, hogy a Teremtő félelme nálad még nem tökéletes (Möháril Márgoliusz nevében).
Gut sábesz, Paskesz Zev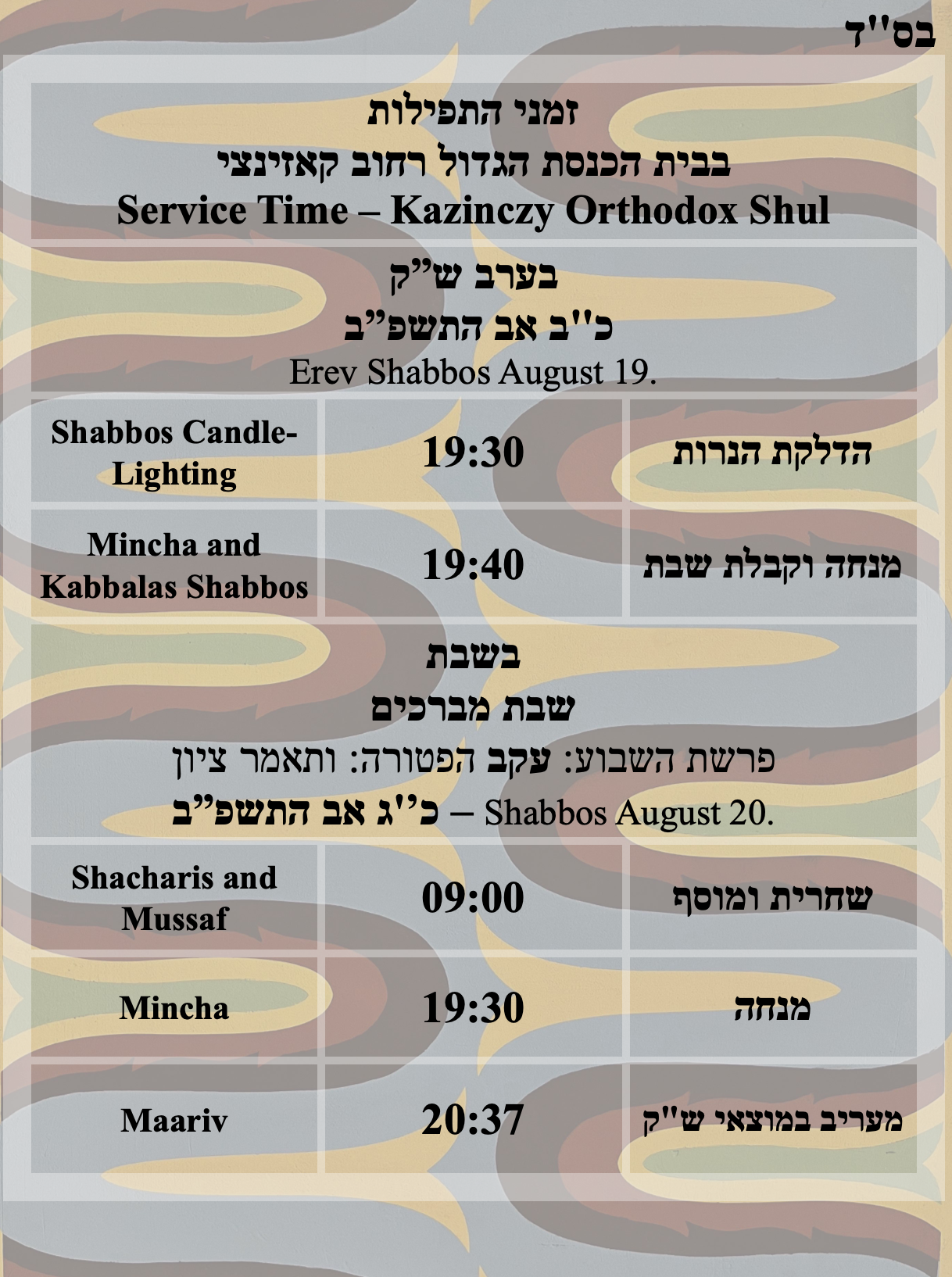 Parashat Ekev
In Parasht Ekev, Moshe tells the Jewish people about their forthcoming entry into the Land of Israel: "Hear, Oh Israel; today you are passing over the Jordan, to come to inherent from nations bigger and stronger than you, great cities and stronger than you, great cities and strongholds, a great nation, descendants of giants […]" 
Why did HaShem let the promised land become populated with the most unpromising people? Let us explain why did HaShem created the world: Because He desired to bestow good upon man. 
This "good" or pleasure doesn't consist of Mercedes or a luxury mansion. For, since HaShem is perfect, any pleasure that God bestows upon us must also be perfect. It must be the maximum pleasure that He can bestow, what is the maximum pleasure that HaShem can grant us? Himself connecting to the infinite is the greatest pleasure that our souls can possibly experience. 
It's the relationship between HaShem and ourselves that is the purpose of existence. The relationship is created through the performance of mitzvos. He created us with physical deficiencies. We should be more grateful that He made us hungry, for it's the very creation of these imperfections which was the real kindness to grant us infinite reward (Slifkin, Brea)
Shabbat Shalom, Paskesz Sharon