Párását Mátot-Mászé – Parashat Matot-Masei
"És szólt Mózes Izrael fiai törzseinek fejeihez, mondván: Ez az, amit megparancsolt az Örökkévaló." (4Mózes 30:2.) – Miért pont itt hangsúlyozza a Tóra, hogy "Izrael fiai törzseinek fejeihez" beszélt Mózes? Hiszen mindig ez volt a sorrend, hogy először Áronhoz és a törzsfőkhöz beszélt!?
RáSI azt mondja, hogy azt tanítja nekünk itt a poszuk, hogy a fogadalom feloldása történhet akár egyetlen "szakértő" rabbi által. Ezért áll, hogy beszélj a törzsek fejeihez. Kérdés azonban hogy a Tóra azt mondja, hogy "meg ne szegje a szavát; mind a szerint, ami kijön szájából, cselekedjék" (uo. uo. 3.), tehát a hangsúly azon van, hogy meg kell tartani a fogadalmat, ezzel szemben annak feloldása függ a törzsek fejeitől, a rabbiktól, nem pedig a fogadalom megtartása.
Hogyan tehet egyáltalán egy ember fogadalmat? Hogyan tilthat meg magára egy megengedett dolgot? Úgy tűnik mintha ezzel megszegné a Tóra azon parancsolatát, hogy: "Ne tegyetek hozzá az igéhez, melyet parancsolok nektek és ne vegyetek el belőle […]" (5Mózes 4:2.) Alapvető különbség van azonban egy fogadalom és a Tóra tilalma. A Tóra tilalma örök és nem lehet feloldani, ami nem így van az egyéni fogadalomnál, melyet akár egy "szakértő" rabbi egyedül is feloldhat, ezért ha valaki fogadalmat tesz nem szegi meg a fenti tilalmat. A fentiekből következik hogy az egyéni fogadalmat azért kell megtartani, mert egy bölcs feloldhatja. Enélkül nem szabadna fogadalmat tenni. Ezért említi a párse rögtön az elején a törzsek fejeit, tudatni, hogy aki fogadalmat tesz nem szegi meg a "ne tegyetek hozzá" tilalmát. (Ávné Nezer)
"[…] Ez az amit megparancsolt az Örökkévaló. Midőn valaki fogadást tesz az Örökkévalónak, vagy esküt esküszik […]" (4Mózes 30:2–3.) Mit jelent a mondat elején, hogy "ez az"? Csak ezt parancsolta az Örökkévaló? – kérdezi a Chászám Szajfer. Tulajdonképpen az egész Tóra megtartása ettől függ, hiszen mindnyájan átvettük a Tórát esküvel, és ez az eskü kötelez minket Szináj hegyétől kezdve megtartani a Teremtő törvényeit. Ezért ezt mondja itt a poszuk "ez az amit megparancsolt az Örökkévaló […]" Ez az eskü, ami kötelez mindnyájunkat a parancsolatok megtartására. (Chászám Szajfer)
Gut sábesz, Paskesz Zev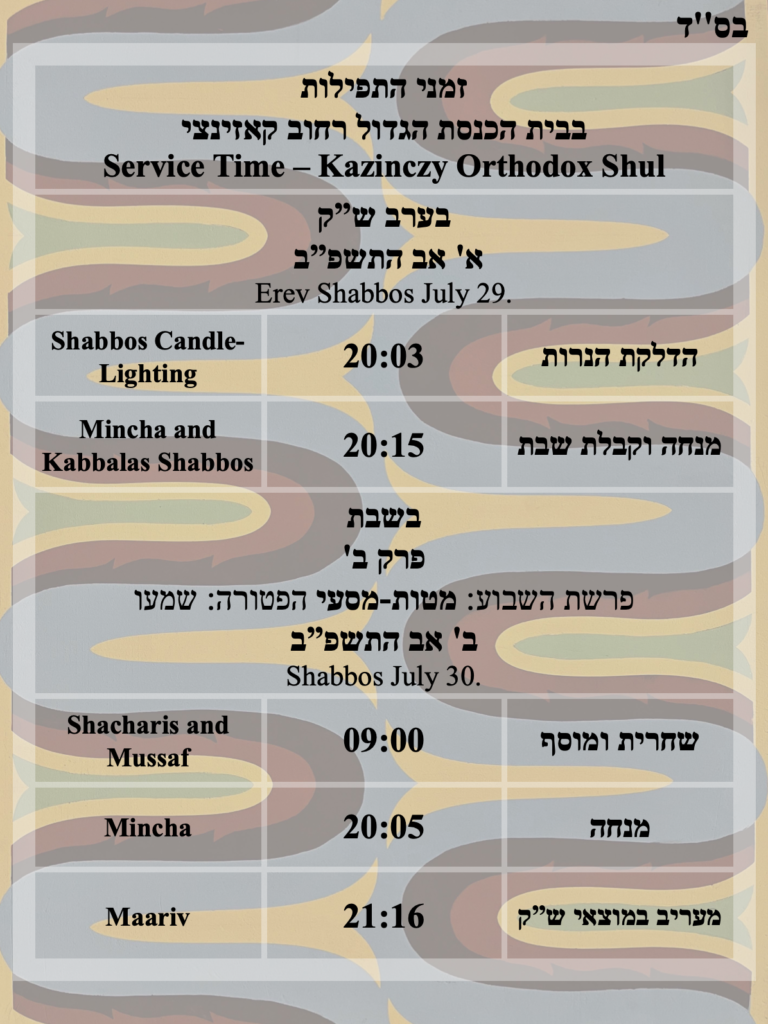 The beginning of parashat Matot discusses the laws pertaining to nedarim, oaths and vows. Nedarim illustrate the awesome power of human speech. The vow that one utters binds one almost irrevocably to a course of action.
Is the proclamation of a neder considered good or bad? Rav Dessler זצ״ל, explains that if a person has a desire to change for the best, a neder can be either of benefit or of harm. If one genuinely commits oneself to changing, then a neder is beneficial. But otherwise, it may just be serving to satisfy the guilty conscience without putting in the real effort.
This is the reason behind the importance of KOL NIDREI on Yom Kippur night. In Kol Nidrei, we regret all vows which we have made and committed ourselves not to making any more. The rationale for this is now clear. Yom Kippur is a day for repentance, a day for honestly resolving to better oneself. But there is the trap of making resolutions and of that being the totality of one's efforts. Merely paying lip service to teshuva isn't enough;one must really make an effort to work on oneself.
So never mind about resolving to change – change already!
Only in certain circumstances are nedarim to be recommended. If one is battling the urge to sin , a neder may help to strengthen oneself. (Slifkin, Brea)
Shabbat Shalom, Paskesz Sharon