Valóban ennyire ostobák lettek volna őseink? – Ki Tiszá
Az aranyborjú készítésének ismert – és szégyenletes – története röviden annyi, hogy mivel úgy tűnt, hogy Mose Rábénu nem jön le a Szináj hegyéről, a zsidó nép úgy döntött, hogy a "lény", aki kihozta őket az egyiptomi rabszolgaságból nem más mint egy aprócska tehén, ellentétben a világegyetem mindentudó és mindenható Istenével, ahogy korábban feltételezték.
De valóban ennyire ostobák lettek volna őseink?
Próbáljuk meg megérteni ezt a bűnt. Nyilvánvalóan nem Istenként imádták az aranyborjút. Valójában Mose Rábénut akarták helyettesíteni, mert azt gondolták, hogy ő halott, s szerettek volna valakit, vagy valamit, aki betölti a szerepét, aki csodákat művel az Örökkévaló megbízottjaként. Bűnük tehát az volt, hogy saját elhatározásukból egy szimbólumot készítettek, egy olyat, amire az Örökkévaló nem adott utasítást.
Helyesen tehát mindig azt kell kérdeznünk, hogy az Örökkévaló mit szeretne tőlünk, nem pedig, hogy mi mit akarunk Tőle. A hiba akkor kezdődik, ha valaki Isten-i ráhatás nélkül akar cselekedni.
Ezért is állt többes számban: "Ezek a te isteneid Izrael". Ekkor még ugyan csak egy "istent" alkottak maguknak, de sokkal többre vágytak. Az egyetlen hatalomforrást sok különböző forrásra akarták volna felosztani.
Tanulnunk kell őseink bűnéből, és emlékeznünk kell, hogy csak egy Isten van, akit szolgálnunk kell, ez a mi felelősségünk, melyet embertársaink felé is mutatnunk kell.
Sábát sálom,
Paskesz Sharon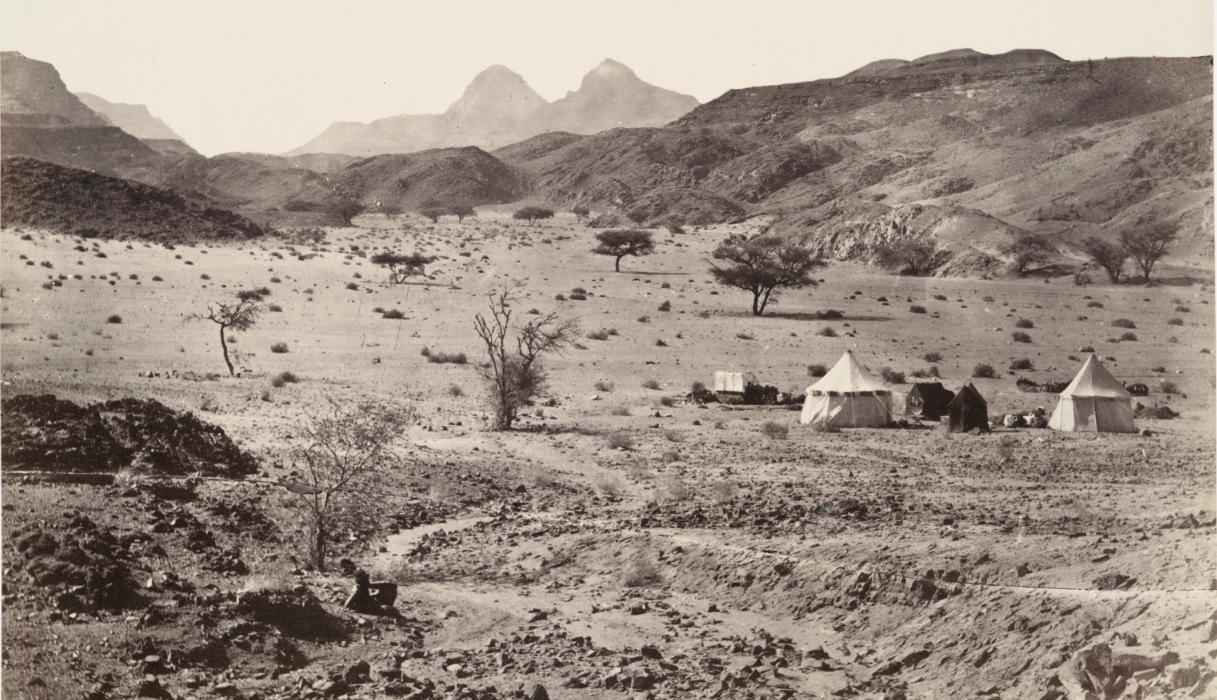 A szináji pusztaság egy 1862-es felvételen.
Parashat Ki Sisa
The popular conception of the Golden Calf episode runs as follows: Moshe Rabbeinu doesn't seem to be coming down from Har Sinai. The Jewish people respond, by deciding that the Being, which brought them out of Mitzrayim was in fact a small cow, and not an omniscient all powerful Divine Creator of the universe, as was previously supposed.
Do we really think they were all so utterly stupid?
Let us try and gain some understanding of this sin.
Clearly they didn't worship the Golden Calf as God.They wanted a replacement for Moshe Rabbeinu. Presuming Moshe to be dead, they wanted someone else to fill his role of performing miracles and acting HaShem's emissary. Their sin was in making a symbol of their own initiative, which hadn't been committed or instructed by HaShem.
We always need to ask what HaShem wants from us, not what we want from Him.The fault is in creating one's own symbol, without instructions.
That is why they said, "These are your gods, Israel" – in the plural. They only made one god at this time, they desired many more.They wanted to divide the single source of power into many different sources.
We must internalise the message and remember who is serving who, and what's our responsibilities to HaShem and our fellow men.
(Brea, Slifkin)
Shabbat Shalom,
Sharon Paskesz